Defence force helicopters will head to parts of Victoria to help evacuate stricken residents and drop supplies as thousands flee their homes amid the state's worst flood crisis in a generation.
As of 9pm today, almost 70 emergency warnings remained in places across the state, particularly north towards the NSW border.
Residents were ordered to evacuate from Echuca Village and Echuca, where the flood was affecting the sewage system.
READ MORE: Victorians impacted by floodwaters eligible for emergency payments
https://twitter.com/vicemergency/status/1581565094034448384?ref_src=twsrc%5Etfw
Bunbartha, between Echuca and Shepparton, in the state's north west, was also hit with an evacuation warning just before 6.30pm today.
But it was too late to leave for many, Vic Emergency warned.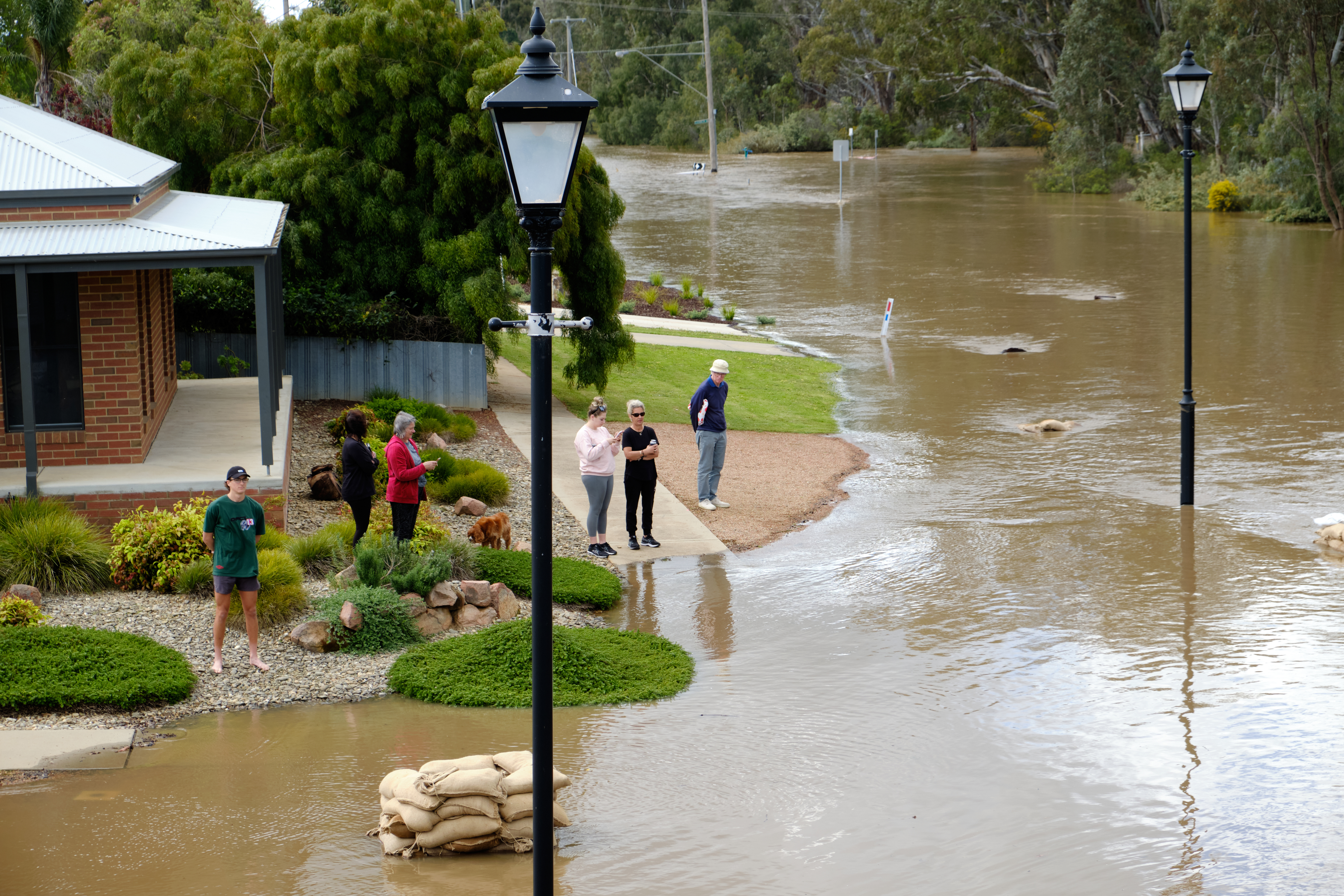 In Echuca, residents were preparing for the first of two flood peaks with the Campaspe River expected to peak at 96.2 metres.
The SES warned as many as 1000 properties would either be surrounded or, in some cases, inundated.
Locals in Moama, across the Murray River from Echuca, were told at a community meeting tonight their area would flood but it wasn't known how high the waters would get.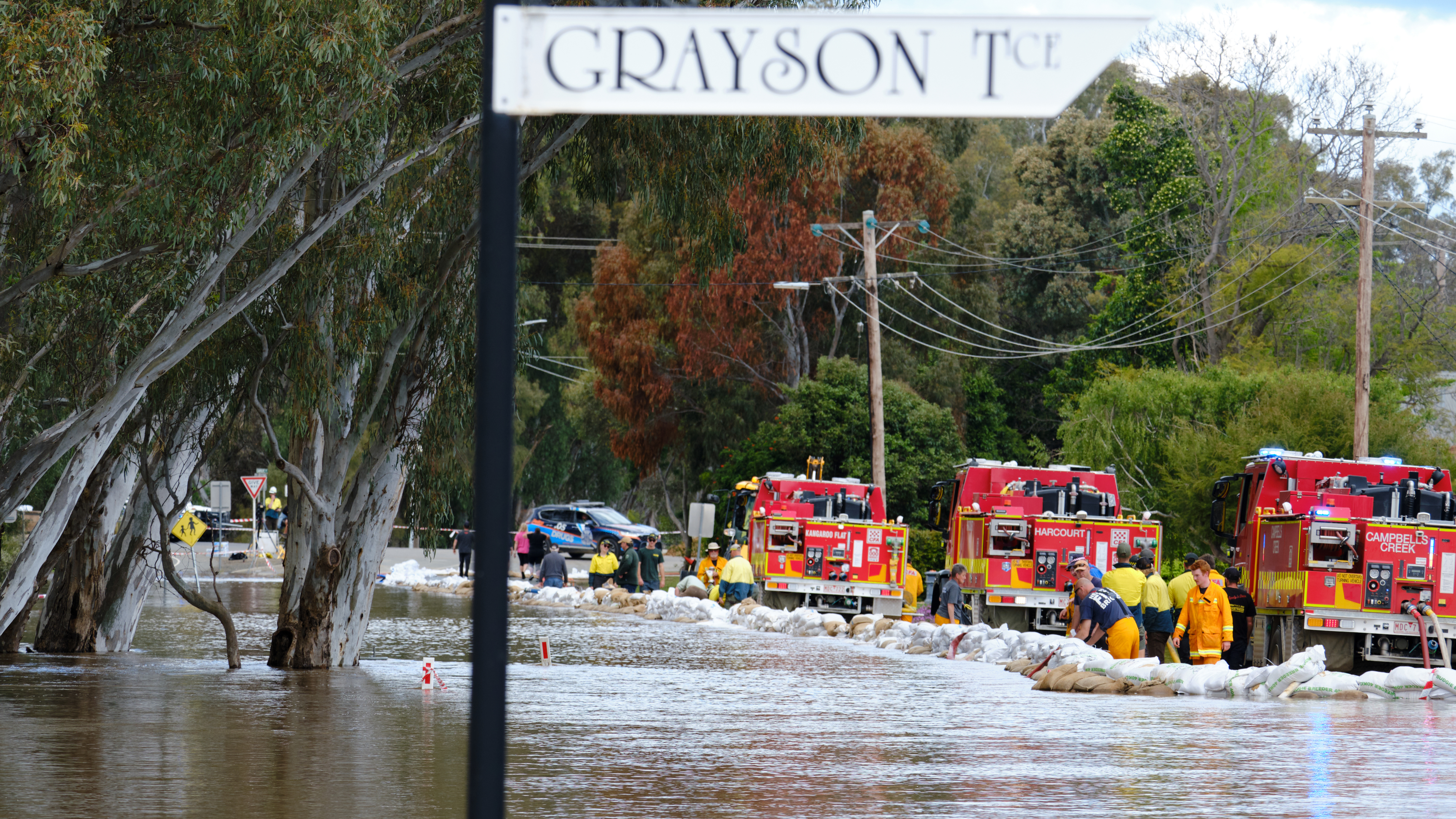 Bendigo Emergency Relief Centre is being used as an evacuation point for people from the state's north and centre, and the upcoming Bendigo Agricultural Show has been cancelled.
The centre was housing 170 people and 20 pets displaced by the floods tonight.
In other parts of the state's north, thousands were either fleeing their homes or trying to defend them as earlier deluges continued to drive river level rises and some residents were warned it was already too late to leave.
Labor Senator Murray Watt said the Commonwealth had approved the Victorian government's request for large Australian Defence Force helicopters to help evacuations, lift heaving equipment and resupply isolated communities.
"These heavy choppers will be made available as soon as they can be moved into position," he said, on Twitter.
https://twitter.com/MurrayWatt/status/1581560227853631495
One man died in the small town of Rochester
Earlier today, Prime Minister Anthony Albanese announced a quarantine facility north of Melbourne will be used to house people fleeing the floods, with emergency cash payments also on offer to help those evacuated.
https://twitter.com/vicemergency/status/1581505574436364288?s=20&t=-FI3qLIAoVkvw9EiIB0MNQ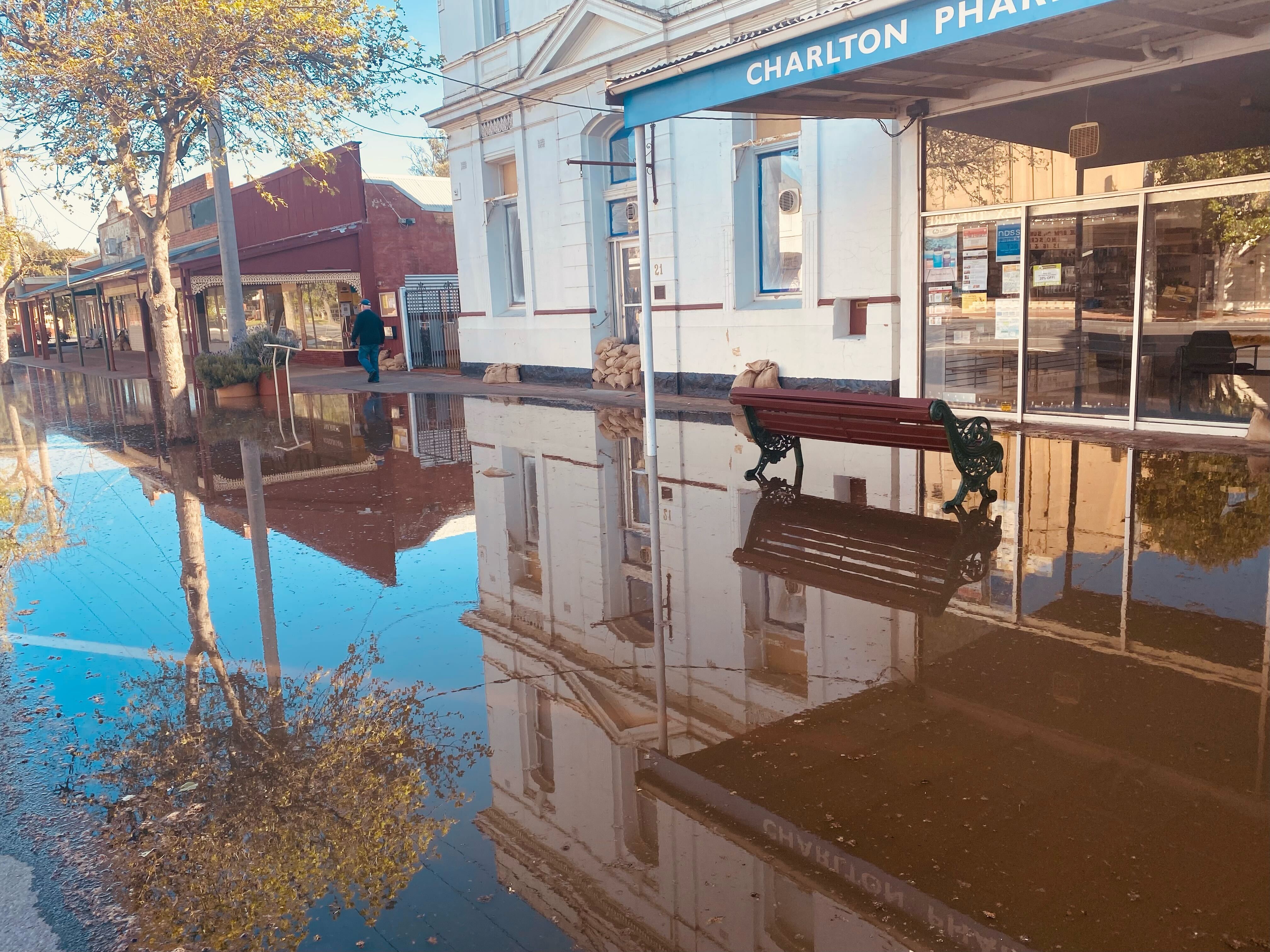 Floods to last 'three to five days'
People in the town of Charlton in north-west Victoria were told this morning they should evacuate the area immediately, with major flooding expected to peak today and continue into Monday.
"The duration of the event is likely to be three to five days," Vic Emergency has warned.
The evacuation warning is expected to be in place until 10am tomorrow.
A relief centre has been opened at Wycheproof P-12 College for Charlton residents and their pets to shelter in the meantime.
Residents can find the latest warnings and evacuation orders on the VicEmergency website and weather updates on the Bureau of Meteorology website.
https://twitter.com/vicemergency/status/1581420926943391744
Shepparton and Mooroopna experience major flooding
Residents in Shepparton, 180 kilometres north of Melbourne, and nearby Mooroopna, Orrvale and Kialla West were told it was too late to leave their areas, after major flood warnings were issued about the rising Goulburn River overnight.
"Major flooding now occurring at Shepparton where a major peak around 12.2 metres is possible early Monday, above the 1974 flood level of 12.09 metres," Vic Emergency said.
"Strong river rises will continue during Sunday at Shepparton, where levels are likely to exceed 12.10 metres by 6pm Sunday, before peaking around 12.20 metres early Monday."
READ MORE: Clean up begins in small Victorian town ravaged by floodwaters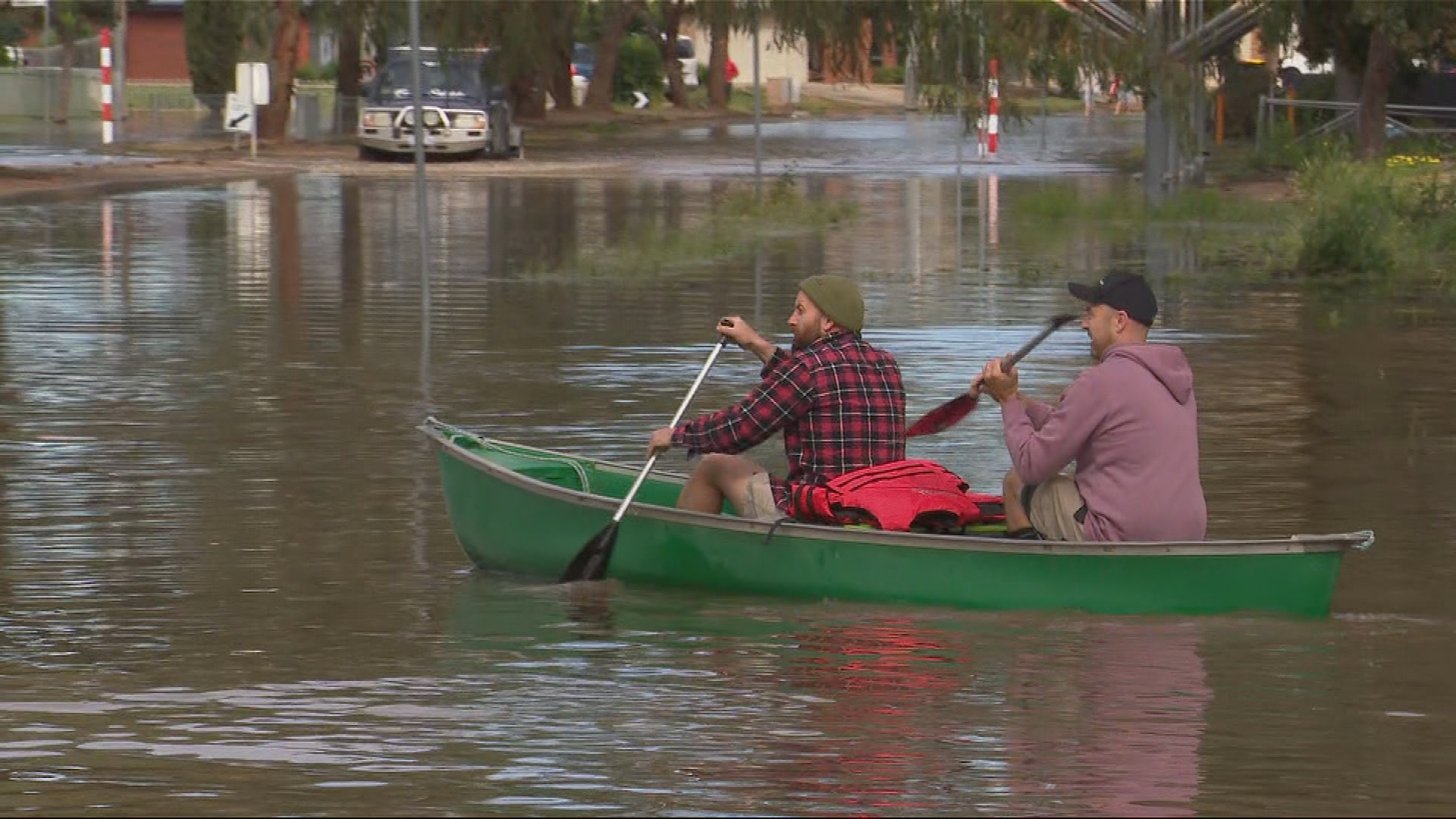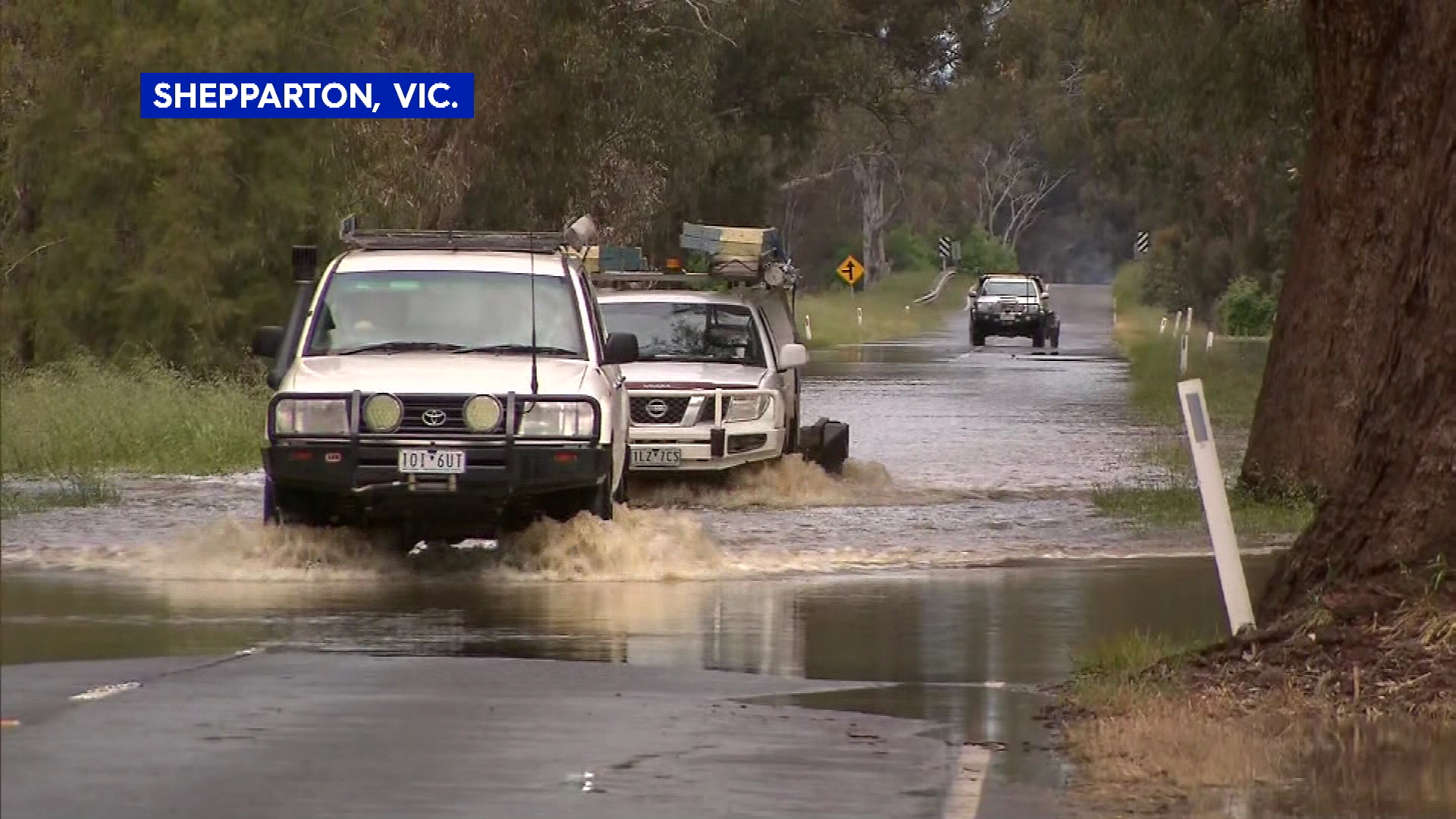 Not far from Shepparton, in Mooroopna, a power station was submerged in floodwater, with a resident sharing aerial footage of the little that can be seen of the station above the water.
Powercor announced it had de-energised the station, which powers about 10,688 homes and businesses in Mooroopna and surrounding towns, as a safety measure.
"Safety is always our priority, and we have taken this action to reduce the risk to the community and minimise long-term damage to electricity assets that may lead to prolonged power outages," Powercor has said.
Powercor said it built a levee, sandbagged and used pumps to keep the water out, but was unsuccessful.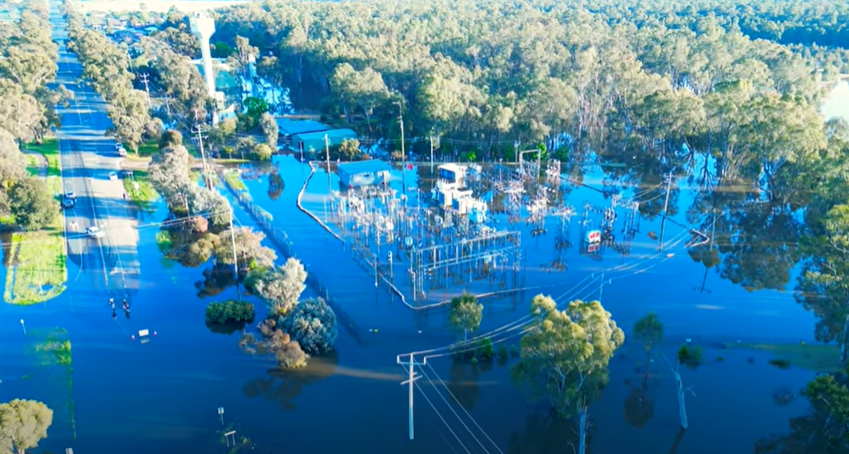 The energy company said it was able to restore power to about 4700 customers connected to the substation by supplying them via other parts of its network.
As of 9.30pm it said on its website just under 2000 were without power.
It is expected the power station will be out of action for days.
Affected residents are warned to be careful about electrical appliances, and to not assume that power has been cut to their home.
The water level has been rising all day in and around Shepparton, claiming roads, playgrounds and swamping homes. 
READ MORE: Social services minister says cost-of-living pressures to stay in 2023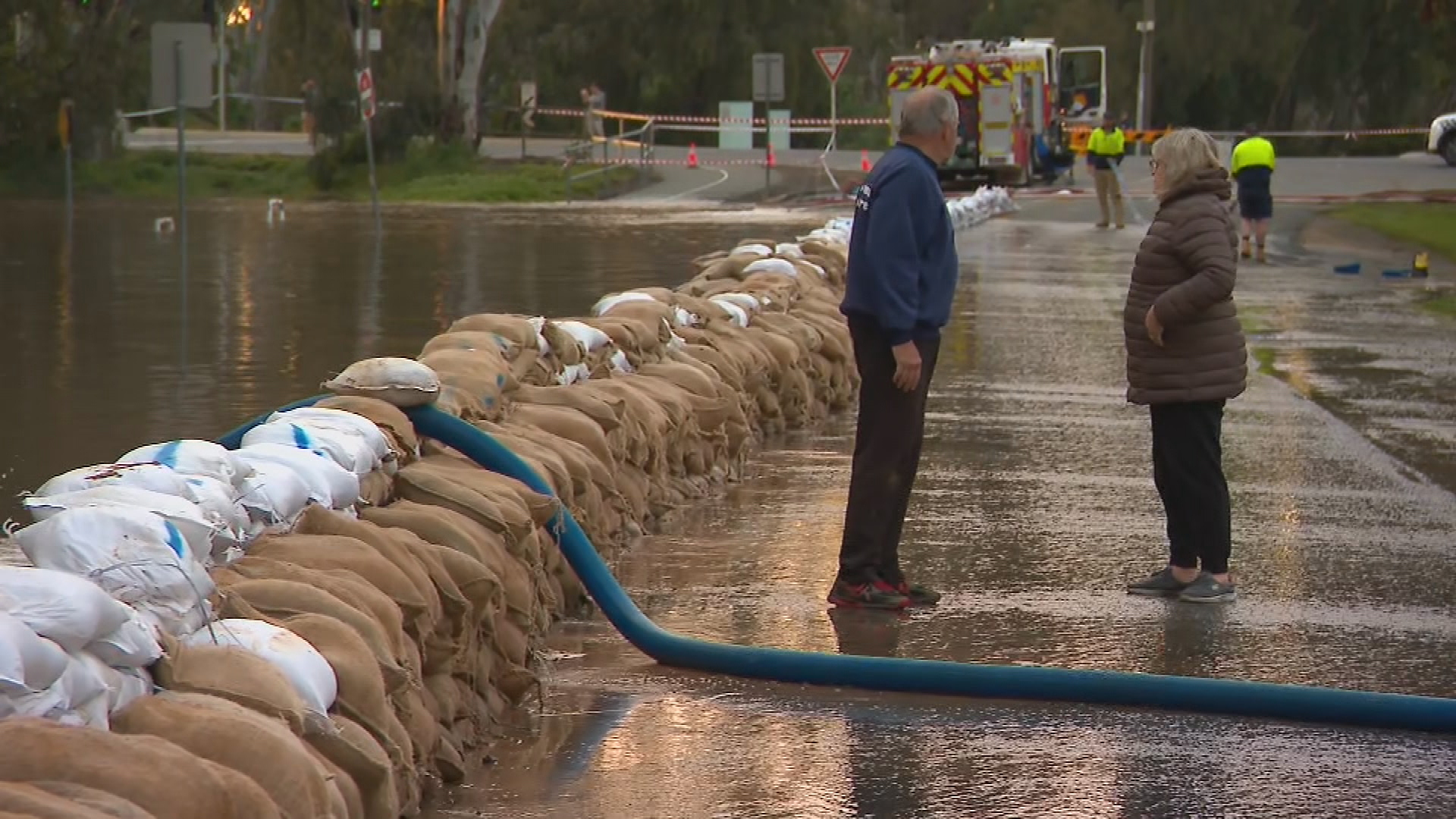 Already more than 8000 properties have been impacted by floodwaters, according to Greater Shepparton City Council, while more than 160 people are at Shepparton Relief Centre and more than 6000 homes are without power.
The Salvation Army Australia dropped supplies by helicopter, the Council said.
ADF called in to help save Echuca
A large wall of sandbags is holding back the majority of flooding in Echuca, but waters were expected to continue to rise.
Teams from the Australian Defence Force are on the ground to the town to try to help protect it from the rising waters.
READ MORE: Russia military range shooting leaves 11 dead, 15 wounded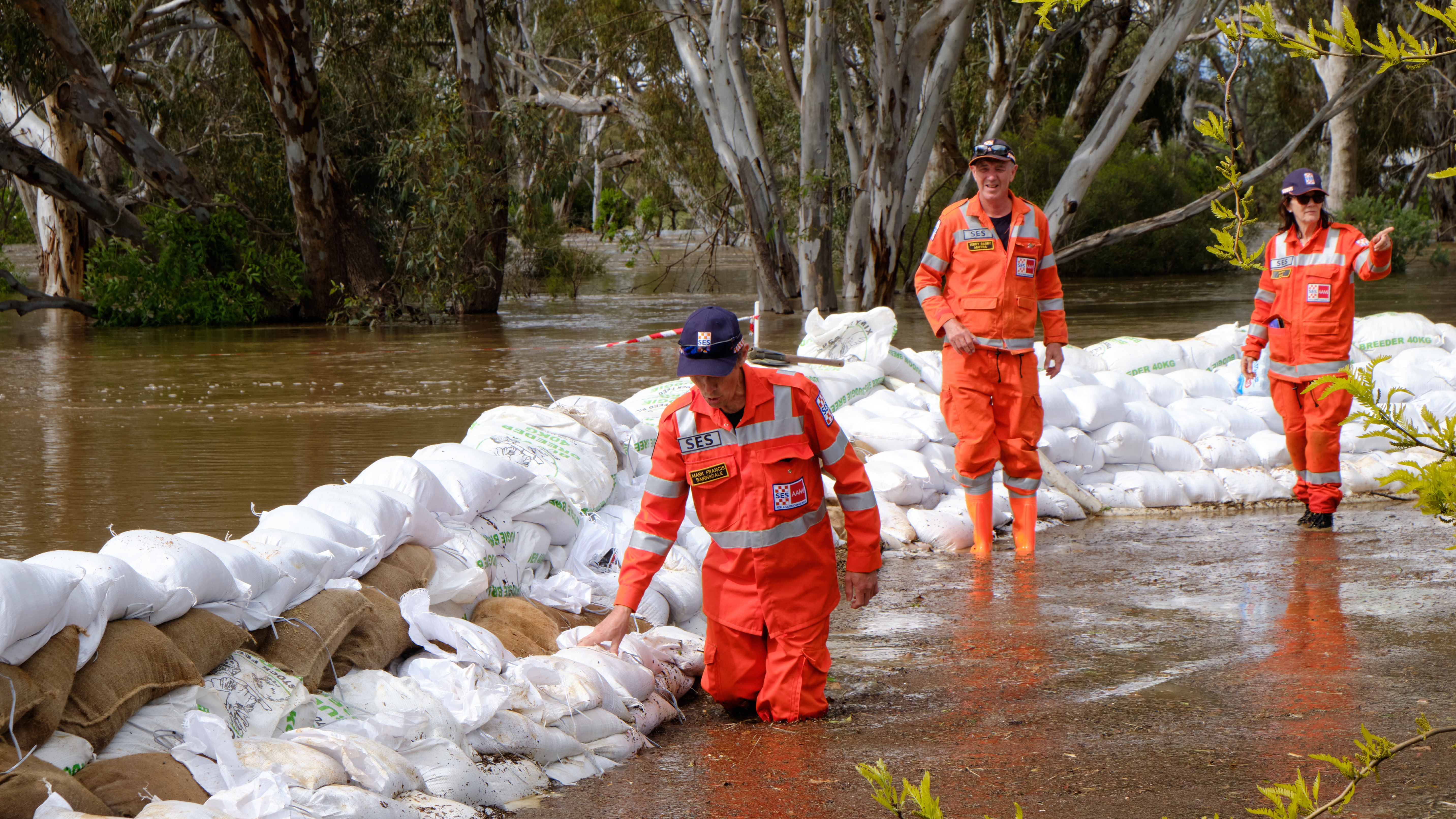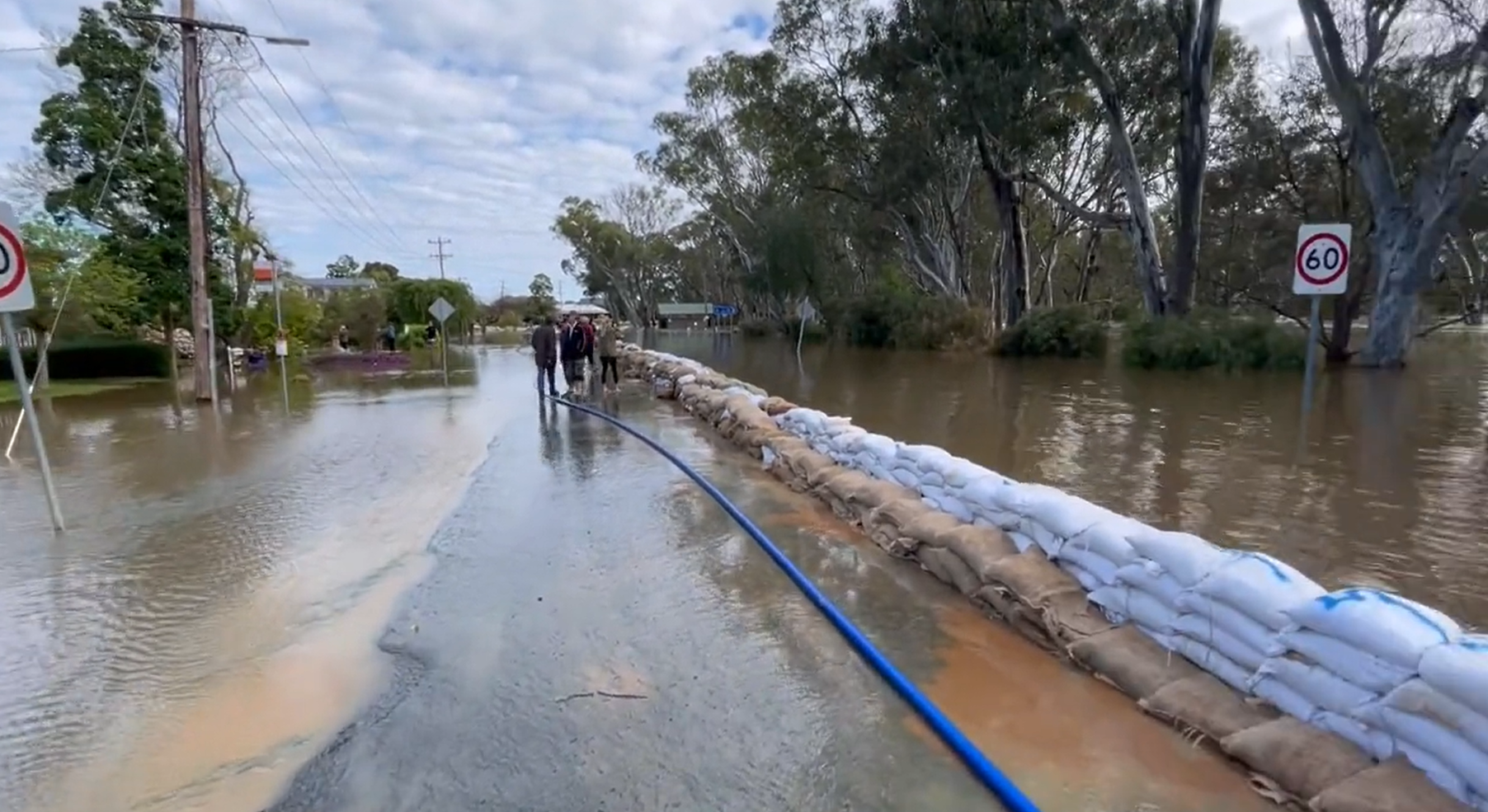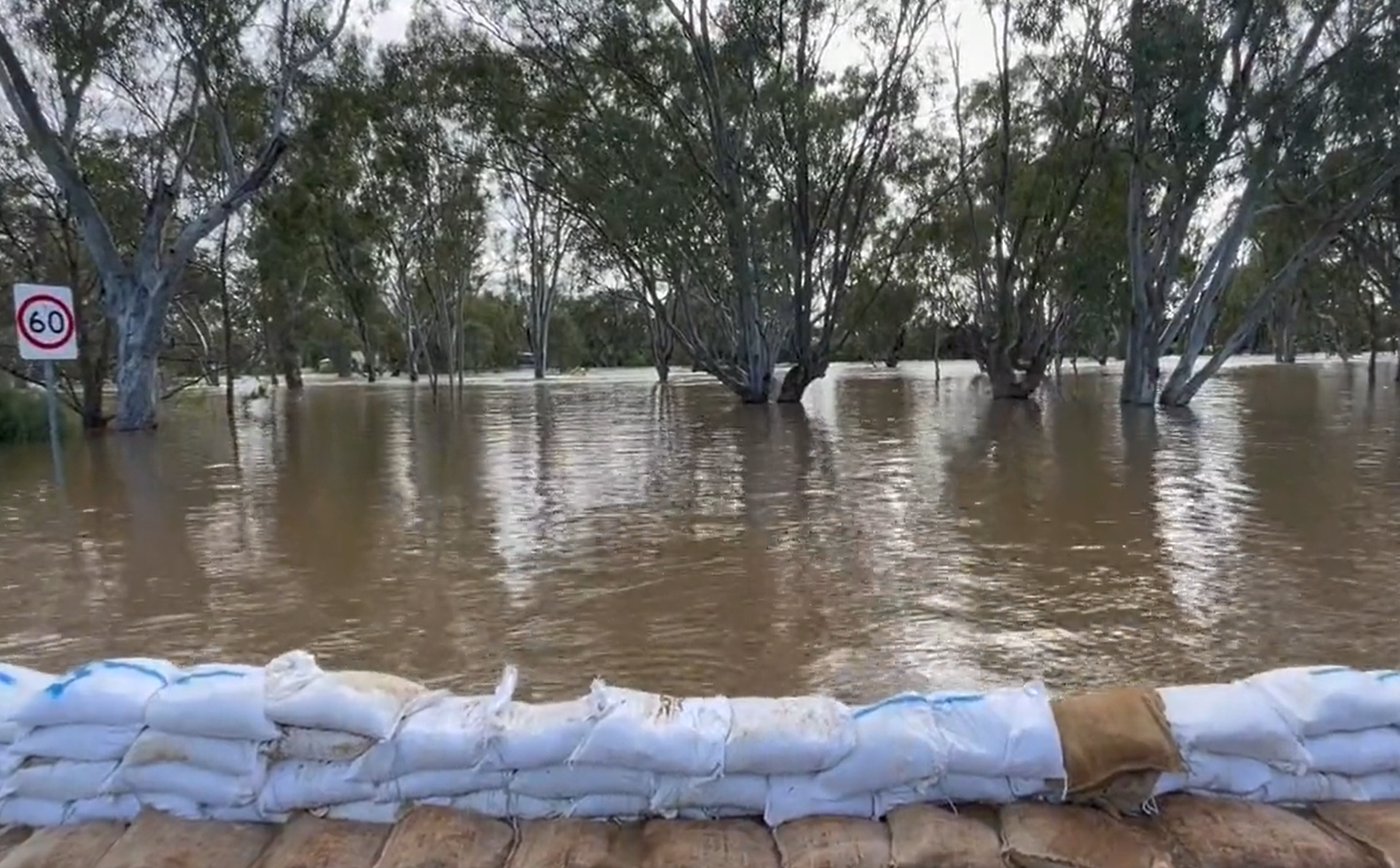 Crews have been seen adding more and more sandbags to the wall to try to keep it strong in the fight against the rising waters.
Echuca residents there are bracing for a double whammy: first they will be hit with waters from the Campaspe River and then, in the next few days, they'll also get water from the Murray River.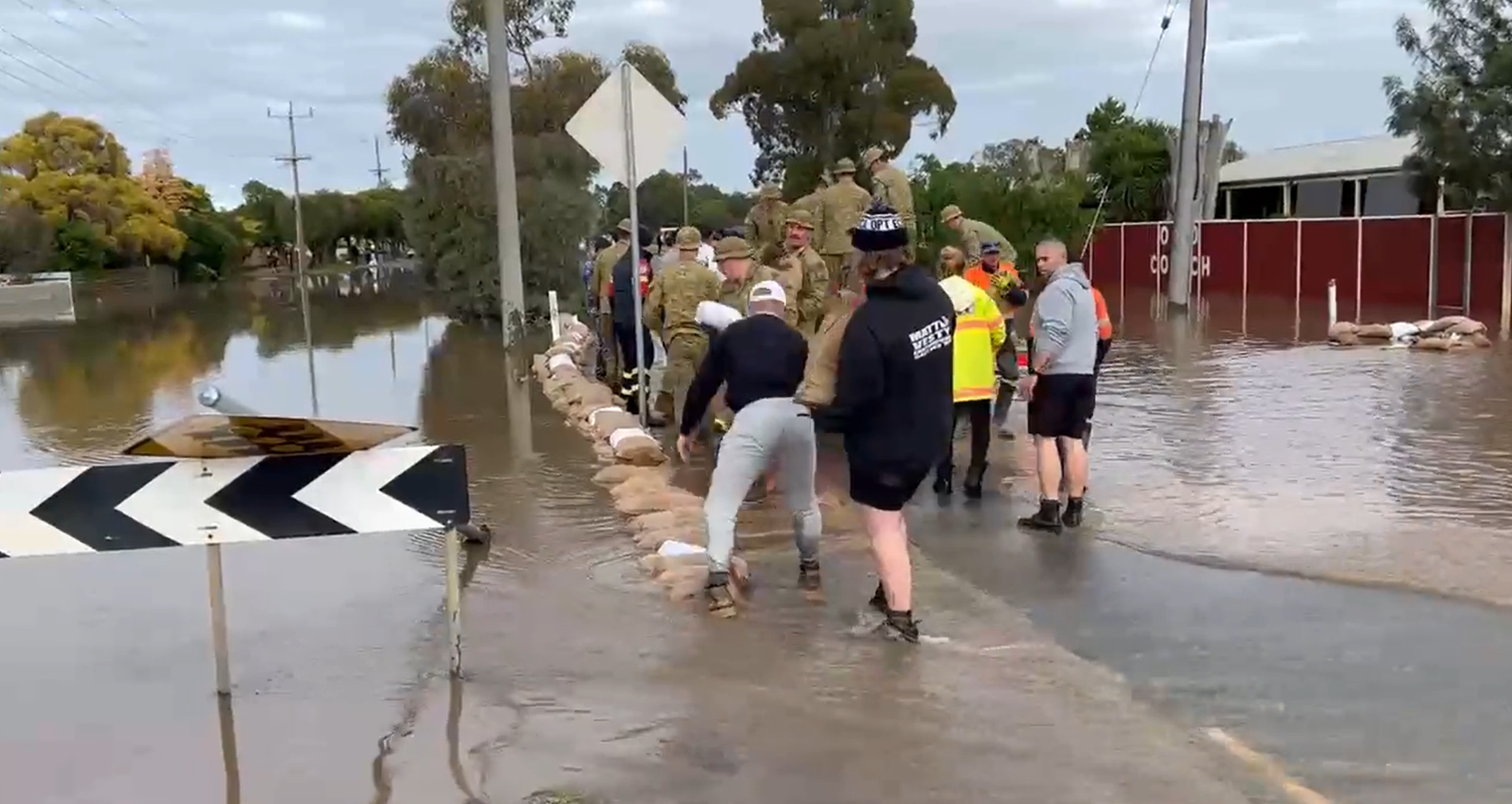 Local resident Michael has told Today that everyone in the town is feeling very worried.
"We've had floods here before but we haven't had anything like this," he said.
"We are in a situation that is going to get real critical.
"If the water goes over (the sandbag wall) then God help us because things here are now serious."
READ MORE: Blaze, shots heard from prison in Iran capital amid protests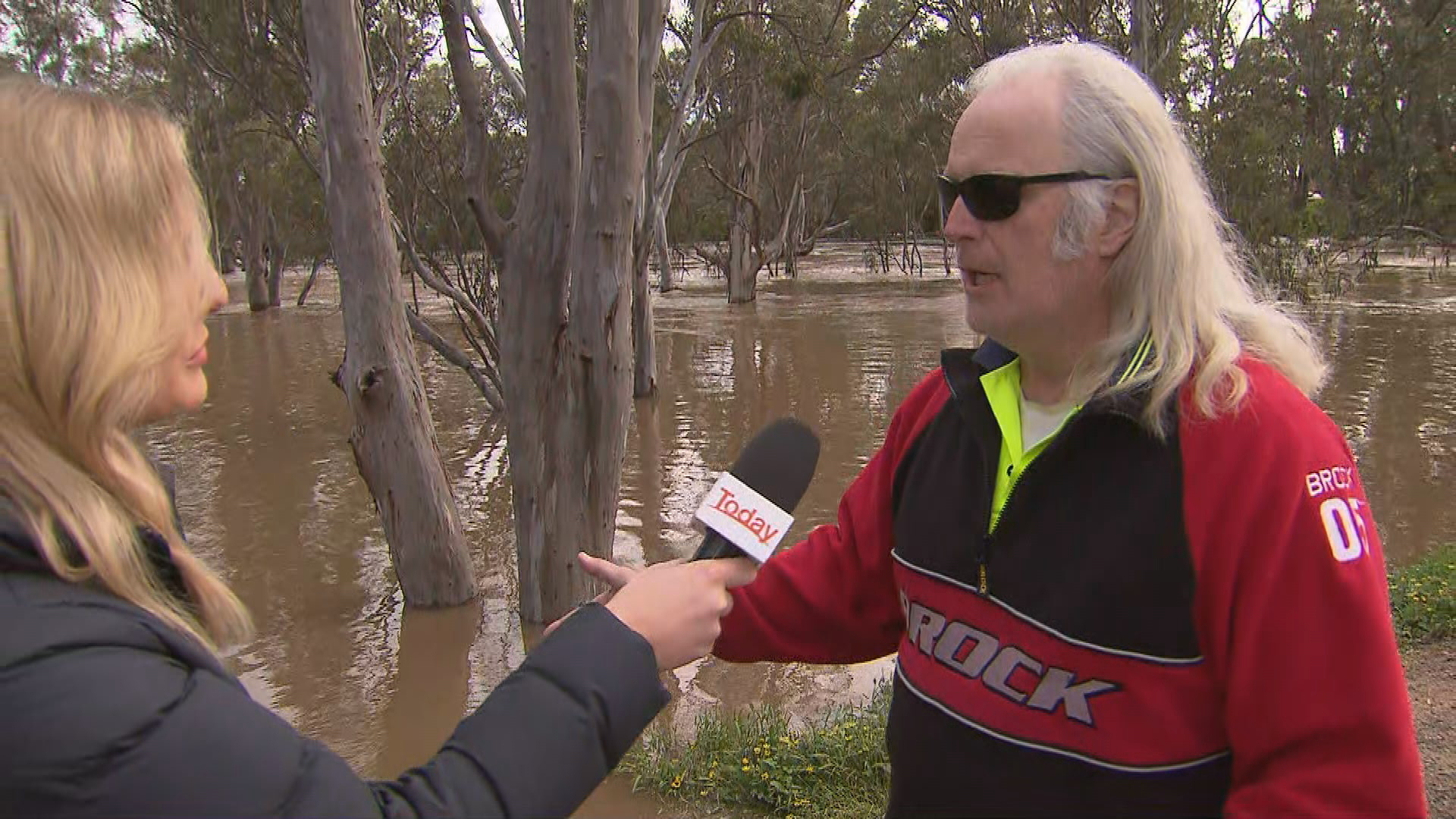 https://twitter.com/IzaStaskowski/status/1581397458223271936
Some homes have already gone under, despite sandbagging preparations.
One home in Echuca has been seen filled at least foot-high with floodwater.
The residents have told Today they woke to find their home inundated about 3am, with the water having begun leaking in through their garage, and through sandbag barriers.
Evacuations could continue for days
Victoria's emergency services chiefs warned on Saturday the state could experience "some of the largest evacuations" in the state's history over the coming days.
Premier Daniel Andrews also warned Victorian the state is far from being "out of the woods".
Meanwhile, major flooding is still occurring along the Goulburn River at Seymour, which peaked around 3am Friday at 8.26 metres.
It's forecast to finally drop below the major flood level (7m) on Sunday morning.
Meanwhile, the clean-up begins in the small town of Rochester, 180 kilometres north of Melbourne which all went underwater on Friday.
Recovery is also continuing in Maribyrnong in Melbourne, after hundreds of businesses were flooded on Friday. 
READ MORE: Two people injured after shooting incidents south of Brisbane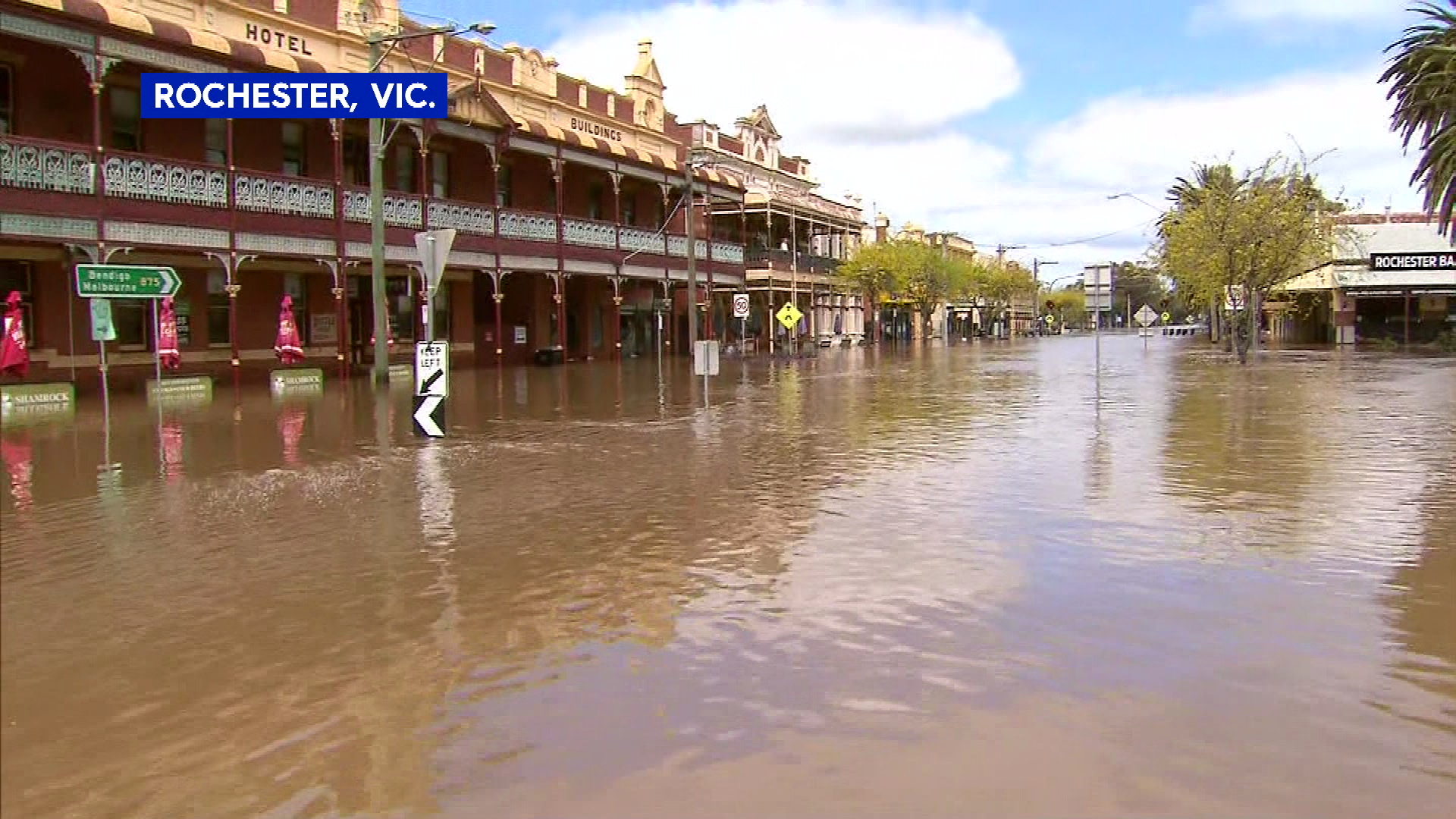 More rain on the way
While the rain cleared off to make for a dry weekend, Weatherzone is forecasting another wet spell later into the week, which could "wreak havoc" over "several days" right along the east coast, from Queensland down to Tasmania.
"Another low-pressure system and trough… will intensify and push across the NT and SA early next week, before moving into and settling over QLD, NSW, VIC & TAS for several days," they said.
READ MORE: Why more Aussies are getting trapped in a 'mortgage prison'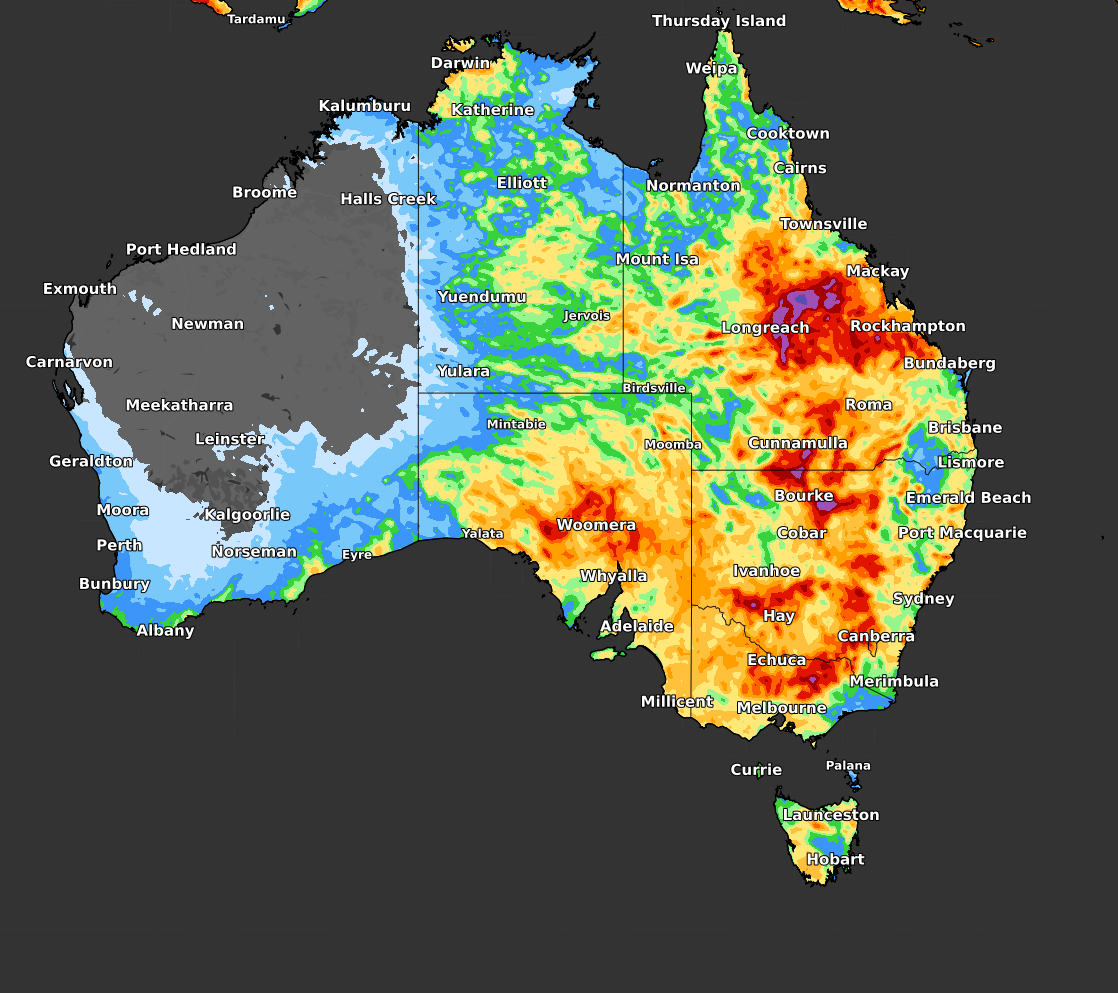 "We can see widespread falls of 20-40 millimetres are likely, but heavier localised falls of 100-150 millimetres are possible over recently impacted areas.
"While rainfall amounts might change in the lead-up to this event, widespread rainfall is likely, and it won't take a large amount to see rivers rise again."
A number of weather alerts and flood warnings are in place across NSW and Tasmania also as river levels rise from the recent rainfall runoff. 
New South Wales residents can keep up to date with the latest warnings and safety advice on the NSW SES website, while those in Tasmania can stay up to date here.
Source: 9News