Queensland Premier Annastacia Palaszczuk says the intense weather smashing the state's south east is "like an unpredictable cyclone".
In a briefing just after 3pm on Sunday (4pm AEDT), Ms Palaszcuzk said the "rain bomb" was expected to persist for many more hours before it started moving south on Monday morning.
"No one expected this rain bomb to be sitting over the south east of our state for such a long period of time," she said.
"This is like an unpredictable cyclone and it is levels that we never expected or could never have been forecast."
The Bureau of Meteorology has issued its most severe thunderstorm warning for "intense rainfall" from two systems over the state's south-east.
A BoM spokeswoman said the main focus of the storms had been in Brisbane and the Gold Coast and surrounding areas. The intensity of the rainfall has been "incredibly quick and incredibly fast".
Many schools will be closed and people are being asked to work from home on Monday as floodwaters around Brisbane are expected to remain high.
"We never expected this rain, this rain bomb is just unrelenting. It's not a waterfall, it's like waves of water," Ms Palaszczuk said.
The latest:
Death toll now at six, including an SES volunteer
Homes flooded from Brisbane to Ipswich and out to Grantham and also north to Gympie
Gympie's Mary River peaked at 22.8m, 1m higher than 1999, the highest level since 1893
Maryborough is next in the firing line
Dam releases have begun
Earlier, Ms Palaszczuk asked millions in the state's south east to stay at home.
"If you live in South East Queensland, please stay home this afternoon with a severe weather warning current," Ms Palaszczuk said on Twitter.
"This is an extraordinary weather event and it should be treated very seriously. I urge everyone to stay off the roads, stay at home if safe to do so, and call for help if you need it."
Ms Palaszczuk said dangerous storms were expected to continue.
"The Bureau of Meteorology warns that very dangerous thunderstorms were detected on the weather radar near Brisbane CBD and Strathpine. These thunderstorms are slow moving. Very dangerous thunderstorms are forecast to affect Caboolture, Highvale and Aspley."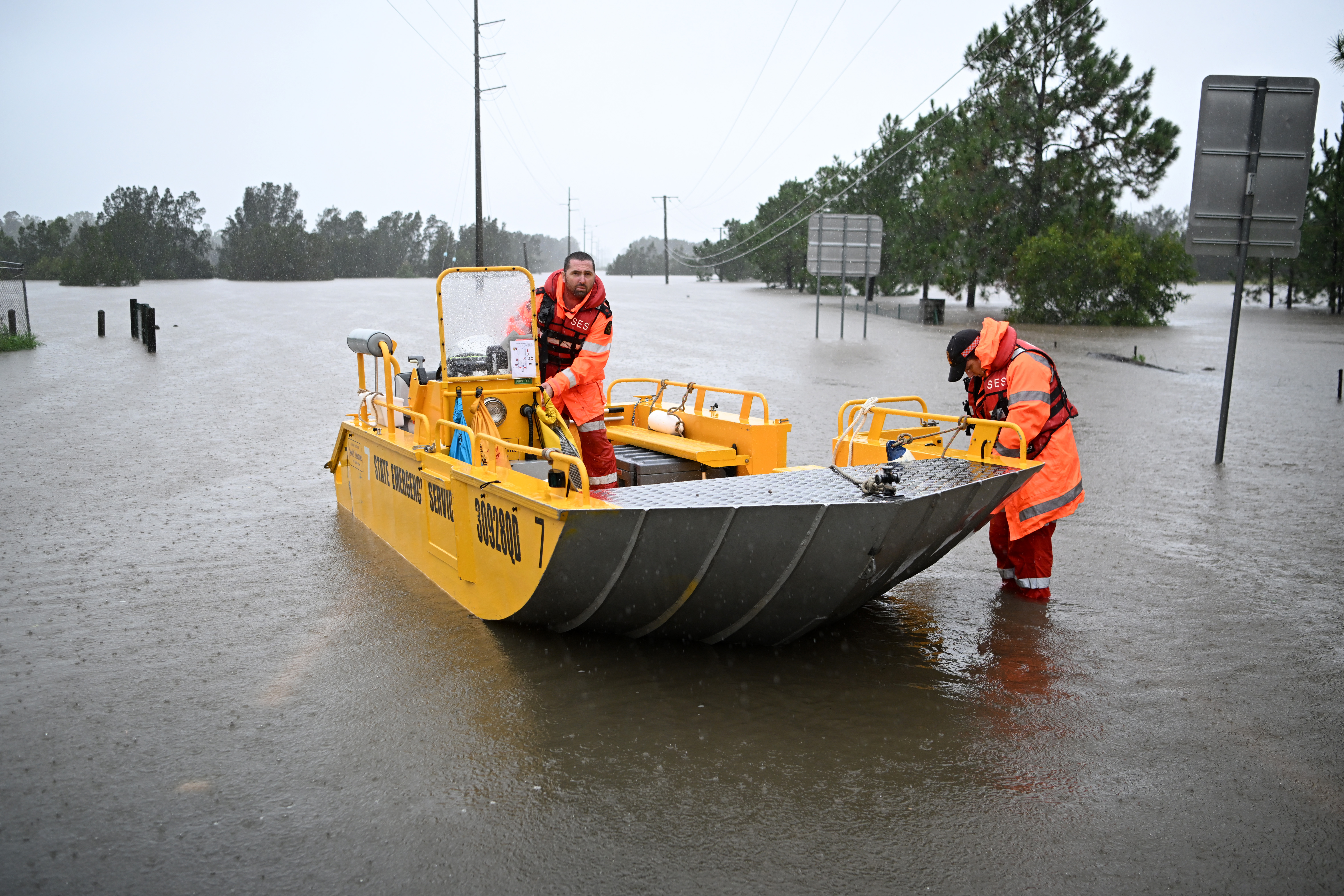 Evacuation in Gympie
Earlier, an evacuation order was made for the area of Gympie, which has been deemed a disaster declaration area as life-threatening floods continue battering parts of the state.
Evacuation centres reached capacity overnight and the Gympie Council is looking for other ways to help shelter affected people.
A number of residents from the south side of Gympie have been evacuated and brought to the north side.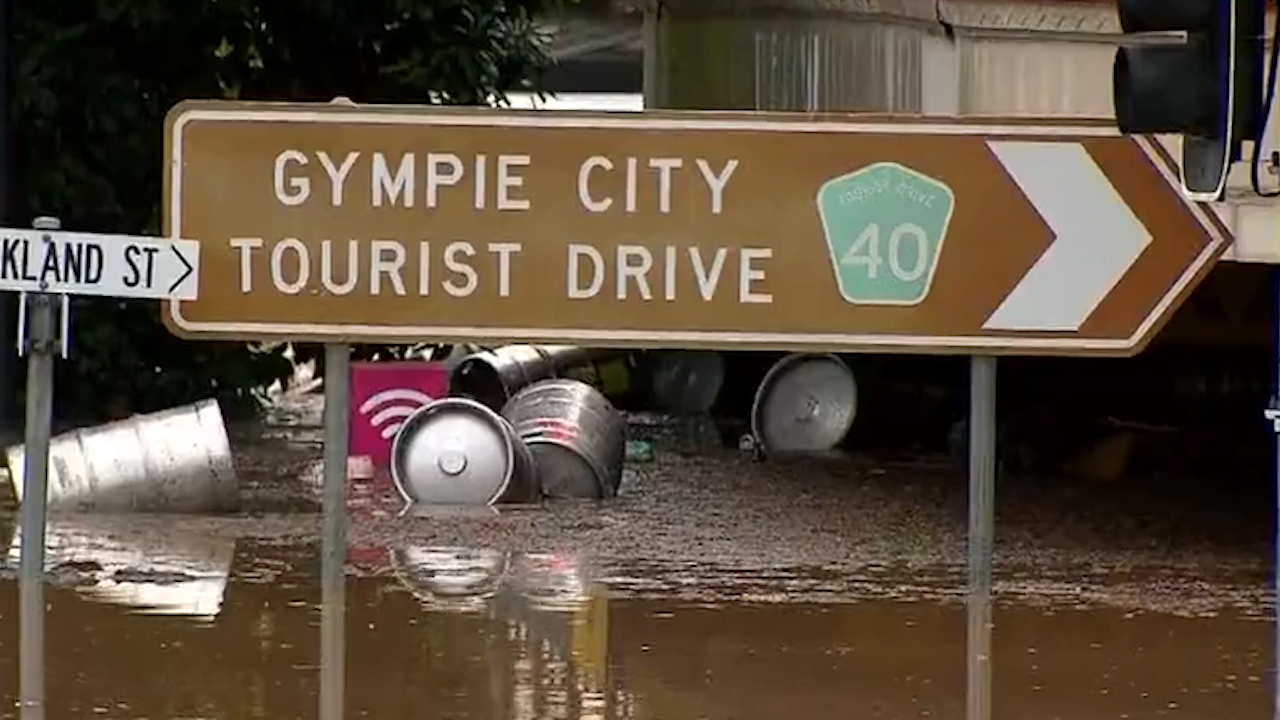 "We have around 550 people in the Gympie evacuation centre and a total of 1040 across the state," Ms Palaszczuk said.
"We haven't really experienced this much rain in such a short period of time before.
"It is literally a rain bomb sitting over the entire SEQ (south-east Queensland)."
"If it's flooded, forget it.
"There is a lot of rain out there.
"Our creeks and rivers are saturated, and they are all pouring into our major river system."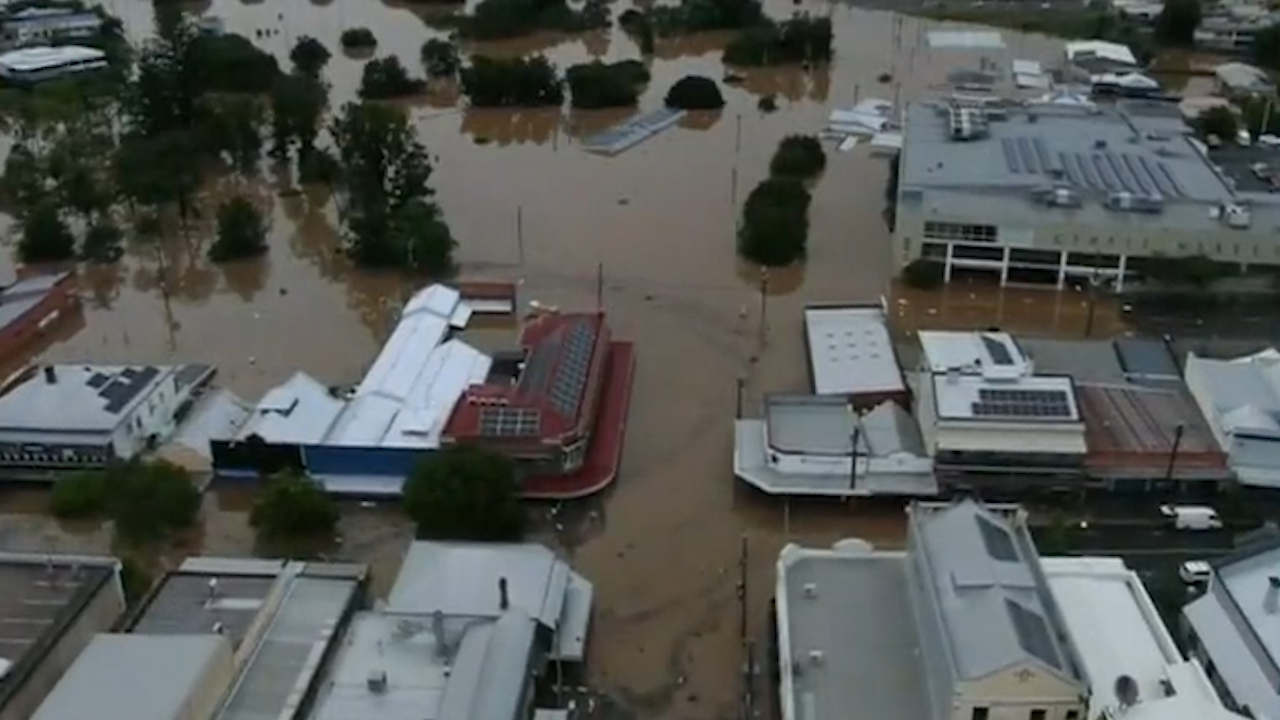 Power shortages and a lack of diesel are plaguing Gympie.
"This rain event, as I said, is moving south. So we have to all listen to what's going to be happening over the next 24 hours," Ms Palaszczuk said.
It comes as the current level of the south-east Queensland water grid reaches 98 per cent capacity, which is an increase of around 10 per cent in the last 24 hours.
Brisbane on flood alert
Earlier, residents in Brisbane were being warned to be on alert.
"We expect there, there may be 1413 homes that will be impacted above the floorboards at this stage," Ms Palaszczuk said.
Impacted residents may also be eligible to receive a $900 relief payment for families of five or more.
"The focus now remains on Brisbane and the Gold Coast," The Bureau of Meteorology said.
"We are seeing a lot of widespread rainfall some really high rainfall totals and some really intense rainfall.
"And it's that intense rainfall that can lead to flash flooding, especially considering that our rivers and catchments are incredibly saturated."
All Brisbane residents and residents as far as in Logan, Ipswich, Moreton Bay are also being urged to conserve drinking water until issues with the Mt Crosby Water Treatment facility can be fixed after debris flowed in.
Man dies after car swept away
Another man has died in floodwaters west of Brisbane this morning, bringing the state's flood death toll to six.
Queensland police say that at around 2.30am the 34-year-old Moorooka man managed to free himself from his car, which had become submerged in floodwaters on Witton Road in Indooroopilly.
He tried swimming to safety, but nearby residents contacted emergency services when they saw he didn't surface from the water.
Authorities then located the body of the man a short time later.
A report is being prepared for the Coroner.
Noosa under major flood warning
Noosa, on Queensland's southern Sunshine Coast, is under a major flood warning.
The Noosa River has breached its banks causing severe flooding in the area.
"It's sad, very sad. Businesses are closed and there'll be damage," a Noosa resident told 9News.
Travel in and out of Noosa and the Sunshine Coast is difficult as the Bruce Highway, which connects the area to Brisbane, is flooded.
Parts of the highway have crumbled away from the impact of the deluge.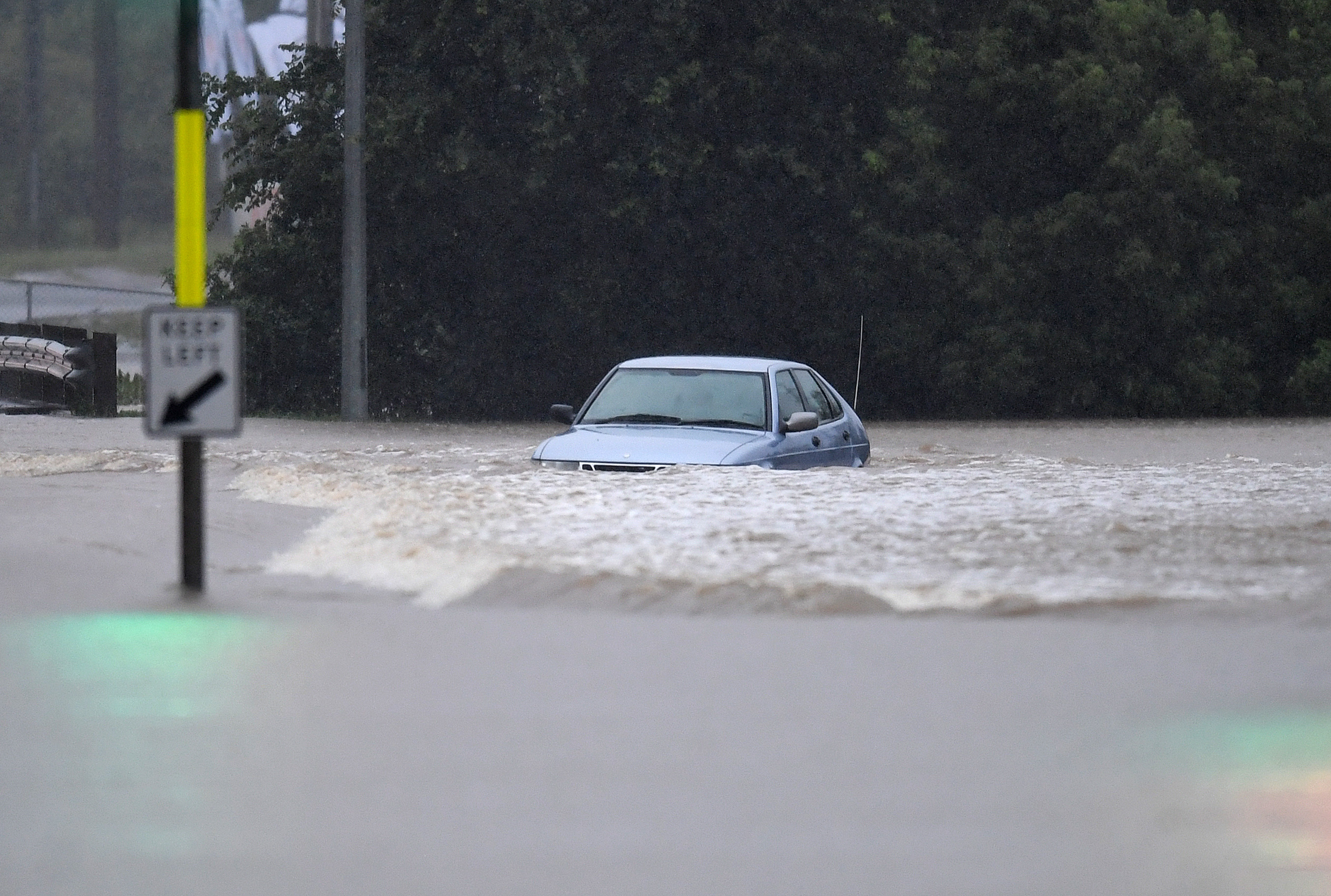 Flood warning for northern NSW
Flood warnings are in place for northern NSW as severe thunderstorms and heavy rainfall are predicted in the coming hours.
Between 200mm to 300mm is forecast for the region.
NSW Premier Dominic Perrottet says there are at least 11 flood warnings in place across the state.
"We have one evacuation warning in the Clarence River … and in addition to that, a wind evacuation order," Mr Perrottet said.
"My strong message today for people in those areas is to follow the instructions.
"We know that whilst we might have blue skies in certain parts of New South Wales, that does not mean that there will not be significant flooding events that occur over the course of this week.
"So please, please do not be complacent."
The biggest demand areas are the Central Coast and northern NSW.
"Locally intense rainfall leading to dangerous and life-threatening flash flooding is possible with thunderstorms from Sunday afternoon," the Bureau of Meteorology said.
"Heavy rainfall increases the potential for landslides and debris across roads."
Evacuation orders are in place for the Tweed communities.
NSW State Emergency Services (SES) are concerned the region could see water levels rise to those seen in 2017 during devastating flooding.
More severe rainfall forecast
Dangerous and life-threatening floods are forecast to continue for much of South-east Queensland, which has been inundated with severe floodwaters since Wednesday.
The Bureau of Meteorology says intense rainfall and thunderstorms will still be inundating the region.
But is hoping to "see some relief earlier tomorrow".
"The relief will come in the early hours of Monday morning. But we can expect to see this rainfall event continue today and well into tonight as well."
Severe thunderstorm warnings are in place for areas such as Gympie, Kin Kin, Tin Can Bay, Redcliffe and Moreton Bay.
Multiple emergency alerts are also in place in Logan, Ipswich, Cooby Creek, Beachmere, and Noosa.
The Cooby Damn in Cooby Creek has started to spill with properties in the area set to be hit with floodwaters.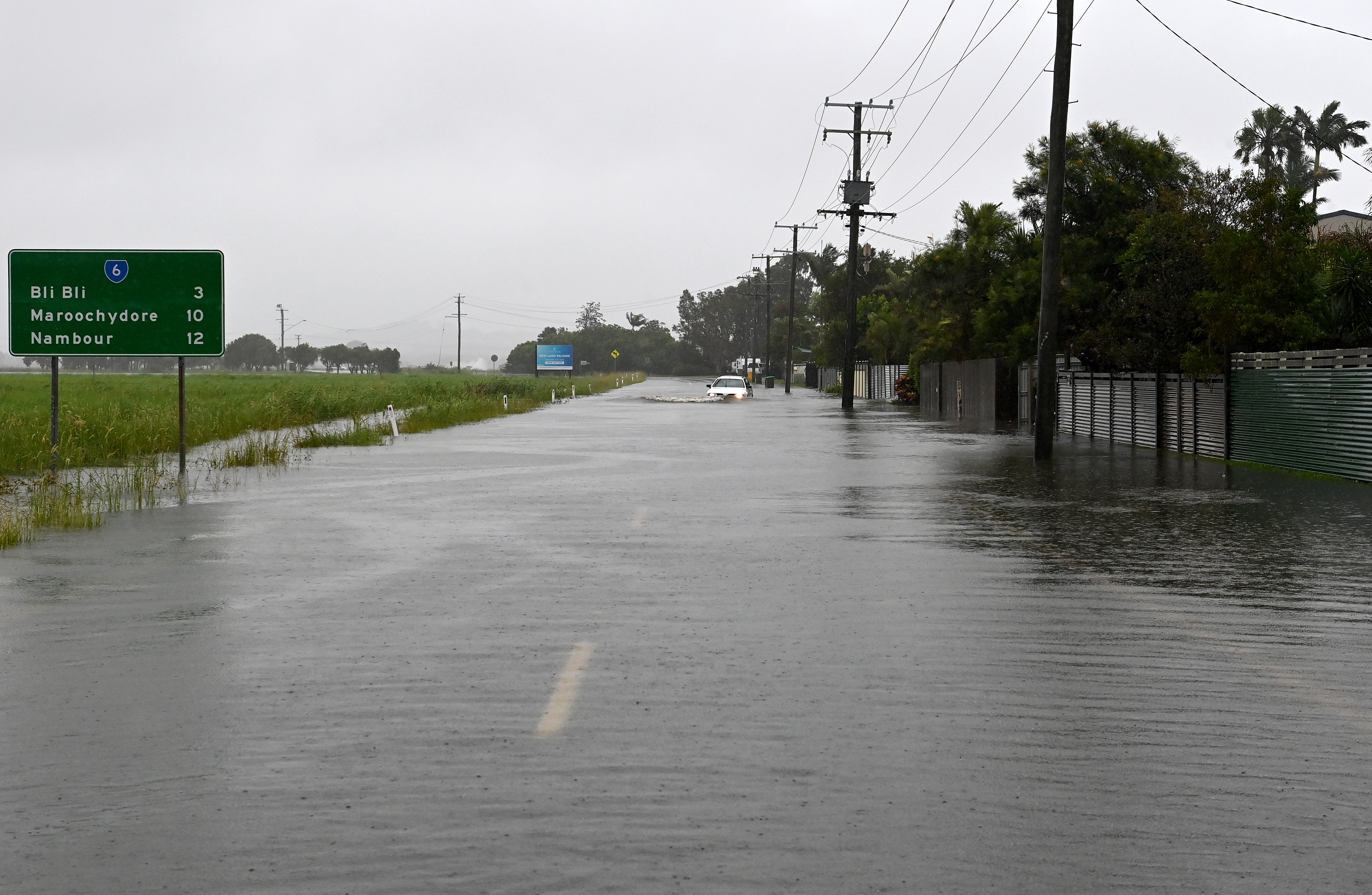 In Ipswich, residents in low-lying areas are being urged to evacuate and not enter floodwaters as life-threatening flooding is set to hit more parts of the area.