The Bureau of Meteorology (BoM) has formally declared an El Niño event, increasing the likelihood of a hot and dry summer and elevating the bushfire risk.
The declaration comes two months after the United Nations' World Meteorological Organisation had previously declared El Niño's arrival, predicting hot weather and tumbling temperature records.
Dr Karl Braganza from the BoM said declared the event is "here" after it ticked over for the first time last week.
READ MORE: NSW's Far South Coast fire danger rating upgraded to 'catastrophic'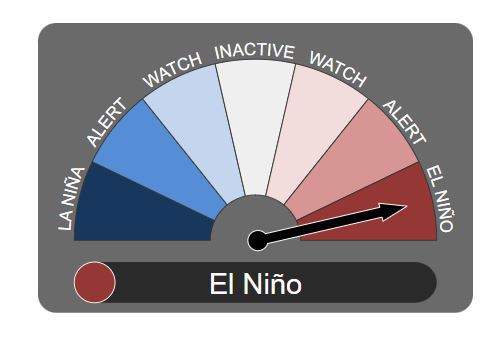 Meteorologists were waiting another week for the pattern to settle and confirmed this was the case this week.
"This summer will be hotter than average and certainly hotter than the last three years," Braganza said.
The El Niño declaration has also been made by the US Climate Prediction Centre and the Japan Meteorological Agency.
It comes as parts of eastern Australia record their hottest-ever September temperatures.
A swathe of schools have been shut down on the NSW South Coast, after the fire danger rating was elevated to catastrophic by the NSW Rural Fire Service.
Firefighters in Queensland battled two fast-moving bushfires on Sunday, which resulted in the evacuation of residents from their homes.
Climate model outlooks suggest the El Niño period is likely to continue until at least the end of the southern hemisphere summer at the end of February.
The formal outlook will remain at El Niño level until the event wanes or signs of a possible La Niña appear.
Conditions for an El Niño event have met the required three of four criteria, the bureau said.
"Oceanic indicators firmly exhibit an El Niño state," it said in its climate driver update today.
"Central and eastern Pacific sea surface temperatures continue to exceed El Niño thresholds.
"Models indicate further warming of the central to eastern Pacific is likely.
"Overall, there are signs that the atmosphere is responding to the pattern of sea surface temperatures in the tropical Pacific and coupling of the ocean and atmosphere has started to occur.
"This coupling is a characteristic of an El Niño event and is what strengthens and sustains an event for an extended period."
The BoM's criteria to declare an El Niño include: a sea surface temperature that is 0.8 degrees warmer than average; trade winds that are weaker than average in the western or central equatorial Pacific Ocean during any three of the last four months; and a three-month average Southern Oscillation Index of –7 or lower; and a majority of surveyed climate models show sustained warming to at least 0.8 degrees above average in key Pacific regions.