A 65-year-old grandmother has been left seriously injured after she was allegedly deliberately driven into in a carpark in Melbourne's inner suburbs.
Minnie Votsis was driving her Holden Captiva in a carpark on Epsom Road in Ascot Vale last week when a man driving a white Hyundai Getz allegedly crashed into her car.
After both drivers got out of their cars to share details, the male driver refused to hand over his licence, Votsis' son Davod told 9News.
READ MORE: Pair arrested after allegedly ramming police during pursuit across Melbourne
The man allegedly then got back into his car and reversed into Votsis before fleeing the scene.
"When she turned around she tried to call the police, he sort of, got hit back in his car and (allegedly) hit her," Davod Votsis said.
"It's horrible.
"The fact that he was able to do it and, and just drive away from it just terrifies us all."
Police have been told its believed he deliberately reversed into her.
The incident unfolded in front of dozens of shoppers, including Rezz Kimies.
"She dropped to the floor, it was very bad," he said.
READ MORE: Victorian Premier Jacinta Allan unveils new-look cabinet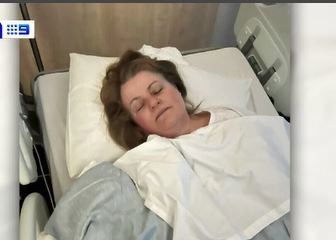 Votsis was rushed to hospital, where she remained for a week, unable to recall what happened.
Witnesses told police the driver fled the scene before allegedly running a red light.
Police are investigating the alleged incident and believe the male driver of the Hyundai Getz had false registration plates.